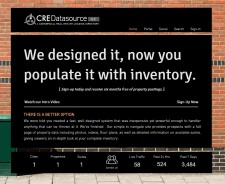 Ensuring Reliable Data for Commercial Lease Space
Austin, TX, March 7, 2017 (Newswire.com) - CRE Datasource LLC launched a new platform this week that promises to create a comprehensive, searchable and user-friendly directory for various types of commercial space for lease. The CRE Datasource Platform differs from similar databases already in use because its design emphasizes accessibility and maximum exposure of listings on the national stage.
Commercial property listings tend to be uniformly straightforward with a technical presentation of the descriptive details. The CRE Datasource Platform includes all these details and more as each listing is augmented with photos, videos and other graphics such as maps, floor plans and details of office suites for lease. "Our system ensures that the information available on CREDatasource.com is reliable and up-to-date because we ask our listing brokerages to take ownership of their listing through a fee-based program," says Gregg Sudduth of CRE Datasource.
Gregg Sudduth of CRE Datasource reiterates that account holders will see the impact of participation in this well-designed and advanced site very quickly.

Gregg Sudduth, President gregg@credatasource.com 1-800-966-0736
Broker or property owner participation in the CRE database requires a small fee ranging from $5 to $10 per listing per month regardless of whether the listing is for office, retail or industrial space. Other options may be included in the fee-based program, but the primary benefit of this system is that listings are fresh or updated regularly, offering a distinctive edge over other commercial real estate databases. Additionally, CREDatasource.com makes it easy for users to extract the information they require and seamlessly print the information or manage lists of target listings.
To encourage participation in this new service, CRE Datasource will waive all fees for the first six months for an unlimited number of listings. In addition, members will have access to CRE's Search Portals, which is an on-board tool that can be added to the broker's website to provide similar information and browsing experience without the CRE branding. Listing brokers will receive notifications when listings are due for updates, ensuring that listing management is a seamless and efficient process.
Gregg Sudduth of CRE Datasource reiterates that account holders will see the impact of participation in this well-designed and advanced site very quickly. "Early adopters will have access to an in-depth presentation of each listing in their inventory, and the listings will target a national audience of brokerage companies and the entire business community. Best of all, the directory is free to access by anyone in the market for office space, retail space or industrial space, maximizing exposure on all fronts," he said. A searchable and easy-to-use directory with fee-based content, offering free access to users is a disruption that the commercial leasing market has needed for some time. ​
CRE Datasource LLC is a rising technology company in the emerging tech hub of Austin, Texas. It is our mission to create the most advanced commercial real estate leasing directory that is accessible to all without pricey subscriptions or memberships. CREDatasource.com is a Google-powered site that provides a full complement of features and details for every listing featured on the site for a minimal fee.
Source: CRE Datasource LLC | gregg@credatasource.com
Share: