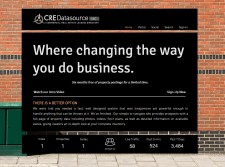 CRE Datasource Launches Comprehensive Directory of Listings
Austin, TX, March 21, 2017 (Newswire.com) - The real estate market thrives on information, but it is crucial that the information is accurate, accessible and thorough. CRE Datasource is a newly launched commercial real estate on-line leasing directory of commercial listings designed to make sure that database entries are fresh, updated regularly and easily accessible by users. For corporate site finders, the CRE Datasource directory is exactly the productivity tool they have been waiting for. 
Access to high quality information related to retail leasing ensures that these companies can take advantage of better lease rates at their preferred locations. This is especially important for companies interested in opening seasonal pop-up locations or those expanding into new markets. The same urgency may not apply to office leasing, but comprehensive information on available office properties helps businesses to make the best leasing decisions. The parameters for industrial leasing are different as well, but the right location for an industrial client can have an impact on their operational processes. 
"Corporate site finders who are tasked with acquisition, disposition and leasing of properties will be pleased to find that CRE Datasource is pulling together all the information relevant to listings on our site. The depth of our market research is demonstrated by the supporting documents for each listing in the form of photos, maps, videos and floor plans," says Gregg Sudduth, CEO of CRE Datasource. 
In the past, the quality of information for commercial listings was sketchy. Listings were posted on corporate websites, community platforms or print magazines and newspapers, which means much of the information was outdated and inapplicable. While other listing directories pre-date CRE Datasource, access to their data requires pricey subscriptions. CRE Datasource streamlined the research process so that site finders have a one-stop source for office, industrial and retail leasing. Information in the CRE Datasource Directory is up-to-date because listing broker participation is fee-based. The database itself is free to access for all users. For site finders involved in simultaneous office or industrial leasing projects, CRE Datasource is an efficient way to locate potentially suitable properties for office leasing even if they are in distant locations. ​
Source: CRE Datasource LLC
Share: